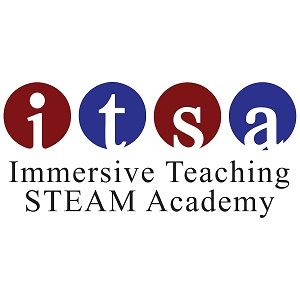 The vision of
Immersive Teaching STEAM Academy
(ITSA) is to further the cause of STEAM (Science, Technology, Engineering, Mathematics, and integrated Arts). Their mission is train students with the skill set (like 3D Modeling, Virtual Reality, etc.), so that they can design educational and training materials using these cutting-edge Immersive Technologies.
ITSA offers supplemental/enrichment programs that provide hands-on experiences with STEAM-related projects. They provide rigorous, relevant and engaging learning opportunities that encourage students to think through problems systematically to arrive at the best solution.
Their core belief is that Project-Based Learning is the key to inspire kids to pursue these subjects. They believe that by making projects fun and exciting, they increase their thirst for knowledge.
They offer instruction-led programs in robotics, 3D modeling, 3D scanning, 3D printing, keyboarding, movie-making, STEM kits, game design, web design, green screen and visual effects, computer graphics and animation, coding and programming and virtual reality to name a few.
Student interest in STEM subjects has steadily decreased over the past several years. The companies that provide products and services in these areas are finding it hard to attract new employees that can fill all the open positions. And for the people they do find, many of them do not have the skills or exposure to the cutting edge technologies. These companies have to spend a lot of money to train their new employees so that they can lead innovative research and development.

Donate via Credit Card or eCheck
Is my donation and credit card info secure?
Yes, the security and confidentiality of your information is our highest priority. We will not sell, trade or share your personal information with anyone else, nor send donor mailings on behalf of other organizations, and we will only share personal information if you have given us specific permission to do so.
Is my donation tax deductible?
Yes, we are a fiscally sponsored project of Technical Assistance Partnership of Arizona , which is a public 501c3 organization recognized by the IRS. Your donation is tax-deductible to the fullest extent permissible by law.
How do I know that my donation was made successfully?
You will receive an emailed receipt immediately after your donation is submitted and your credit card is processed. Your donation will also show up on your bank or card statement within 1-3 business days.
Do I get a receipt?
Yes, a receipt is sent to your email inbox once your donation is processed. Please be sure to keep a copy of your receipt for tax purposes. If you select a recurring donation, you will be sent an individual receipt each period when your donation is processed.
Is my donation private?
We will not share or sell a donor's personal information with anyone else, nor send donor mailings on behalf of other organizations.